I said, 'Here I am, here I am'

Isaiah 65:1
Recently when I opened by Bible, I was brought to Isaiah chapter 65, and I decided that it would be neat to show you all what was brought to my attention during my study.
This may be an Old Testament reading, but no matter where you are led in God's Word, I feel that He always has a way of making it personable to either you the reader or the readers current world view.
Have you ever felt this way while reading? Perhaps it is because the Word of God is alive (Hebrews 4:12).
Far too often, there are times where God is speaking and people do not recognize Him. Just as Isaiah 65 is illustrating for us, God continually reaches out to us, yet sometimes we lack eyes to see or ears to hear Him.
"I have stretched out My hands all day long to a rebellious people, who walk in a way that is not good, according to their own thoughts" (Isaiah 65:2 NKJV).
God's hands are stretched out to us. He is always speaking, always watching and we are always on His mind. Even when we are rebelling against Him.
He loves those who seek Him. He listens to our requests. God is interested in our prayers. We are included in His plans. (See Isaiah 65:8)
There is a reward for God's people (Isaiah 65:9-10/Isaiah 65:13), and there will be a coming time where God will make it to where you will be sorry by not heeding His Word or His people.
Father has made it clear, that those who continue to 'hide' from God or ignore Him will suffer the consequences. (See Romans 1:20)
"God is not a man, that He should lie, nor a son of man, that He should repent. Has He spoken, and will He not do it? Or has He spoken, and will He not make it good?" (Numbers 23:19 MEV)
My friends, without God you can do nothing. (John 15:5)
You will not have the life fulfillment you are longing and searching for.
I assure you, God is good.
He forgives and no longer looks at your past. (Isaiah 65:16)
[[Actually, a small side note, this is one of the many things that brought me to Christ. I now had a hope, that I did not have to be defined by my past. God could make me new, and although I cannot take back all that I had done, I had a forgiving God that no longer looked at who I was. Instead He looks at who we are in HIM.]]
____________________________________.___________________________________
"The voice of weeping shall no longer be heard in her, Nor the voice of crying" (Isaiah 65:19 NKJV).
____________________________________.___________________________________
So what is God's plan?
What can we take from His Word during all of the current chaos & confusion?
For one, He encourages us to be glad and rejoice in His divine plan for us.
He is a God who is all about

Newness

. So expect new to come.
God is not slacking on His promise ( See 2 Peter 3).
Verses 17- 25 in Isaiah 65 speak on a glorious new creation. That WE as God's people will be able to experience.
Key words that have been resonating with me are: Trust, Rest, Await/Expect, and Joy.
We need to have fear of the Lord and repentance. To fear the Lord means to have respect for God, and remember who He IS. Even if He is our Father, let us not forget that He is also all Powerful and all Knowing. Repentance, means to regret, be sorry. Becoming aware of our wrongs and fleeing from them, and instead running into the arms of God.
Take a look into Colossians Chapter 2 as well.
Go look for yourself in this piece of scripture and meditate all on our notes from today. What is Holy Spirit revealing to you? Do not doubt while reading the passages. Do not be afraid to approach God as you are.
Come to Him in confidence, because He doesn't want to keep anything from you. He wants you to know Him and all of what is to come (all very soon).
One last thing I wanted to share with you all. While reading Isaiah 65, something specific popped out for me, something personal!
Now a while back, about 2 years ago, I had a dream. This is probably the first dream that I can remember that gave me a short glimpse of what is to come. Now I do not dream very often, so when I do, and when it is so very clear, on top of being able to remember it…it must be profound!
I am about to tell you this dream for the mere fact that I hope that it will encourage you. That while you read my words, an image can appear into your imagination, for your own yearning.
Some of you may be asking, "why have you waited so long to tell your dream?". Well, to everything has a season and time (Ecclesiastes 3:1), and the fact that I have been reading this sixty-fifth chapter at such a time as this, and happen to see this particular verse, that correlates with my dream…Seems like a good time to me!
[[I really wish that I could provide you all with the website I first found a while back. I search and research but I cannot find it. When I first had my dream and it was still very fresh in my mind, I found this website and I felt it was confirmation to what I saw. Although unfortunately I currently cannot find it, and I do not remember the exact words I searched so that doesn't probably help. If I do ever find it I will comment on this post and leave it for you all.]]
Any who, let me tell you the gist of my dream.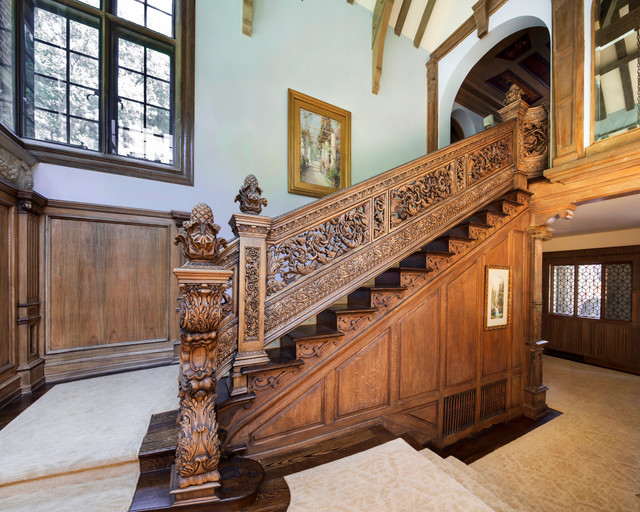 Now, the closest thing I can compare to what I mean by the intricate patterns I saw on this winery wood are the carved images on this old staircase. (See above)
The scripture I connected to this dream, based on our current reading was Isaiah 65:21, "They shall build houses and inhabit them; They shall plant vineyards and eat their fruit."